Located in Cedar Park, Texas, a major suburb of Austin, The Enclave at Cedar Park Senior Living is your perfect transition into a convenient and well-tailored life.
Explore our care levels
Independent
Living in Cedar Park
A worry-free retirement lifestyle that fits.
Independent Living
Assisted Living
in Cedar Park
Customized care coupled with an environment to thrive.
Assisted Living
Memory Care
in Cedar Park
Cognitive support to extend and maximize interests and abilities.
Memory Care
Discover Our Senior Community in Cedar Park
If you are looking for a senior living community in the Northern Austin area, look no further than The Enclave at Cedar Park Senior Living. We offer independent living, assisted living & memory care, as well as private cottage homes in our Cedar Park community. We have residents from nearby Cedar Park, as well as surrounding communities such as Leander, Nameless, Jonestown, Georgetown, Lago Vista & other communities in the North Austin area.
My father loves this place. I moved him twice. First, was very fancy but at the end of the day it is about community. The staff was unable to give him the care for 3x the price I am paying now. He loves a smaller property to navigate as well. The staff are great and the service providers are all engaged and truly empathetic to the residents. Cheers to the Enclave. My 86 year old Dad is super happy. ☀️

My parents moved into The Enclave at Cedar Park a month ago, and everyone has been so friendly and welcoming. The staff members are extremely helpful and have obviously been well-trained about various senior needs. The facility is clean, and the activities are interesting and interactive. There are numerous food choices each day for every meal. The indoor common areas are so beautifully decorated, and there are plenty of outdoor spaces to gather as well. It is a real relief to know that my parents are now living in a place where they feel safe and respected.

Shelly Hohmann
14:40 03 Oct 22
I just wanted to say how impressed I am with the nursing staff at the Enclave. Whenever there is a concern or a medication need, all I have to do is call Cici, and things are taken care of within minutes! Thank you, Cici, for your conscientious and efficient care of your residents and their families!

Mary Clayton-Smith
16:53 29 Jul 22
I want to give a shout out to the care givers at the Enclave. If you are looking for a place that gives phenomenal care and has some of the best activities around, hands down this is the best in the Austin area. I want to give a special thanks to the caregivers who looked after my Dad and a big thanks to Cecilia Garza, the RCC, who was available at the drop of a hat to help and support my Dad, Mom and our family. Thanks so much for always being there for us❤️

Nancy Enyeart
20:03 24 May 22
My mom is a resident here. I want to give a shout out to Cici. Cici is awesome to work with. She coordinates all of the meds and is my go to person to find out who I should contact if there's a problem. She's personable, knowledgeable, efficient and very professional. She's really helped with the transition from mom being independent, living at home, to living in assisted living.

Katie Kehoe
21:57 23 May 22
So very happy with The Enclave! The Executive Director and the Director of Memory Care are both outstanding women who have worked quite hard at accommodating both my mom and me. The nursing staff and aides are as sweet and skilled as I could hope for; I will recommend--and already have--The Enclave

We moved both of my parents into an Assisted Living Apartment at The Enclave in April 2021. It is a beautiful facility and they loved their spacious apartment complete with a state of the art washer and dryer! They have lived in two other facilities and none compare to The Enclave. The staff goes over and beyond for all of the residents. My father has recently moved into Memory Care which, although very hard, has proven to be the perfect fit for him. Now they are both in the same building, yet receiving the individual care they both need and deserve. My Mom repeatedly tells me "I love this place!" I honestly can sleep well at night, knowing that my parents are safe, happy and well taken care of!

Missie Thorp
11:02 27 Oct 21
My mom moved into a gorgeous assisted living studio apartment at the Enclave at Cedar Park in February of 2020, and then into a cute little memory care apartment in April of 2021. I spent hours at the Enclave in the past year and a half. Covid threw a wrench into the dining experience and the social activities. That is not their fault. My mom really loved living at the Enclave. The staff are all lovely people who took such good care of my mother. When Hospice was needed, Mom was able to continue to live on the memory care floor. That was a HUGE relief to me. Misty in memory care and Cecilia, the Assisted Living Manager, have always been there for me and helped Mom with whatever she needed. Their support as my mother was declining was immeasurable. From the staff at the front desk, to Evelyn, the new Memory Care Manager, I thought everyone was helpful and friendly. I never for an instant regretted moving my mother from California to the Enclave. They made my mom's final months as good as they could be. From bringing her ice cream in bed, to allowing me to text them whenever I needed something, I couldn't have asked for a better retirement community for my mom. Thank you from the bottom of my heart. Best wishes to you all.

Wendy Hobbs
23:50 08 Sep 21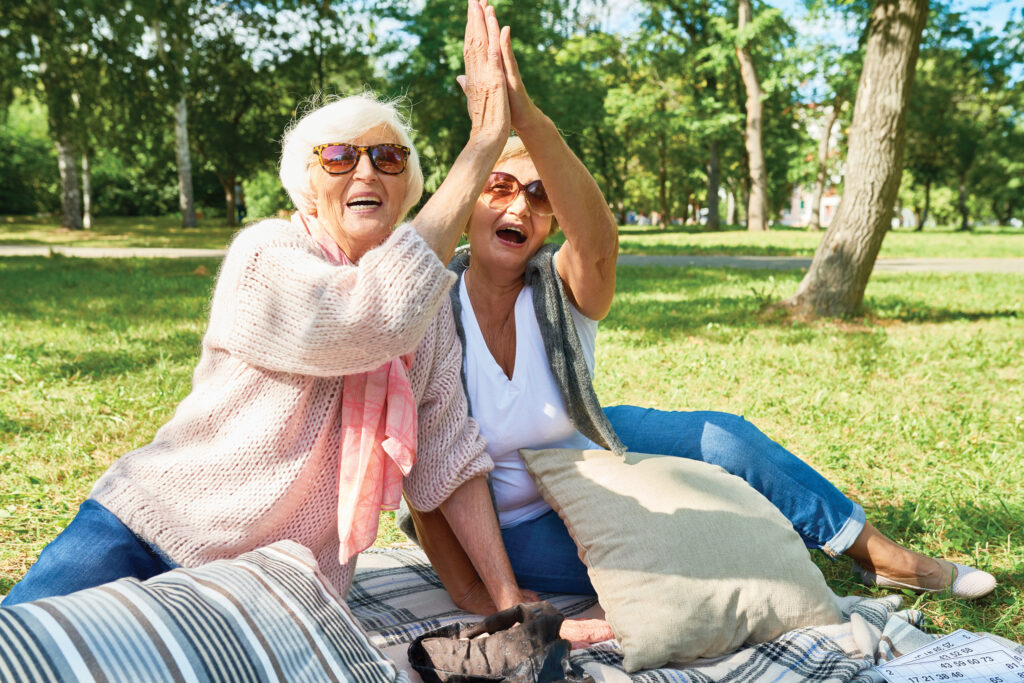 Cedar Park Floor Plans & Pricing
Transparency, options, and value – it's what we're all about. The spaces and amenities here are designed to help you live your very best life.
Contact Us
Age fearlessly.
Live colorfully.®
It's time to live the good life, engage in your community, and embark on new adventures. Schedule a visit to see the community and begin your next chapter today. We can't wait to meet you!
Schedule a visit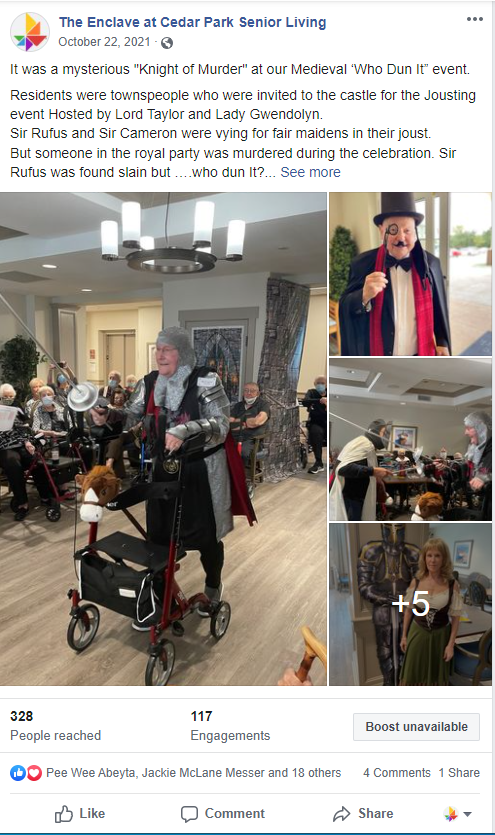 It's time to live the good life, engage in your community, and embark on new adventures. Schedule a visit to see the community and begin your next chapter today. We can't wait to meet you!
Schedule a visit