Located just southwest of St. Louis in Crestwood, Missouri, Crestview Senior Living is your perfect transition into a convenient and well-tailored life.
My rating for the personnel and staff of Crestview would be a 10. The staff go the extra mile for my friend who lives there. They are caring professionals, good people, especially ED Pat Beisel, Sales Director Mariah Senter, and Karen Evans, Concierge. The facilities are very nice, modern, clean and landscaped.The only difficulty I have with Crestview is the cost of living there, but that's really pretty much the same as with any other Independent Living or Assisted Living establishment. I think the cost of housing our elderly is unreasonably high, perhaps everywhere.

Paul Burke
20:08 25 Feb 22
Crestview is a beautiful facility with a friendly, helpful staff. They welcome you into the community immediately. The food is delicious! There are many activities to satisfy all hobbies.

Sharon Dobbs
18:09 13 Jan 22
Crest View is absolutely gorgeous. Crest View opened their doors to our stroke group and their hospitality is above and beyond...talk about community outreach!!!. Their staff is so friendly, seems they know all of their residents personally, they greet our members as if they are residents.The facility is exceptionally clean and beautifully decorated. This is genuinely a happy place!

Kathleen Howard
17:49 05 Jan 22
Crestview has the most caring staff. Every one of them truly cares about their residents. They go above and beyond. Thank you, staff members, for your attention to my mom!!

I first called Crestview looking for an option for my parents and from the minute Dan answered the phone I knew that Crestview would be the perfect place for them to call home. Dan was so informative and caring, listening intently to my parents' story and offering ideas on how to best help them in their current situation. Dan directed me to call Mariah at Crestview and before I even had a chance, Mariah had already called to schedule a visit. My brother and I took my dad (after looking at several other disappointing and depressing places) to visit Crestview and we were blown away. Every single person we encountered on the tour was vibrant, compassionate, caring and happy – just a mirror of what Dan and Mariah had already showed us. My dad didn't want to leave and now he can't wait to move in. What a gift.This is such a tough time in any family's journey and I can speak for all four of us that we couldn't be more excited for this next adventure for my mom and dad. Thank you to the Crestview team for making it so easy. Not only do we think they will thrive there, we will all enjoy visiting them in such a beautiful place filled with wonderful people.

Kelly Malone
21:22 10 Aug 21
Our family has been so very impressed with the facilities, the people as well as the care extended to my sister upon her arrival at Crestview Senior Living. The facilities are very clean, bright and cheerful. My sister is thrilled with the numerous activities offered for the residents. Everything about Crestview keeps her active, social and happy! I can't say enough about how pleased we are!! Thank you for all you do to keep these seniors happy and healthy!

connie otto
18:22 02 Aug 21
Knowledgeable, Reliable, friendly and courteous staff. Beautiful community with a lifestyle to fit just about everyone.

Sharon Gaines
19:38 15 Jul 21
Beautiful facility with friendly staff. Highly recommended!

John Frank
00:08 22 Jun 21
We've just celebrated our fifth anniversary of moving into Crestview Senior Living. We decided when and where we wanted to move and let go of all the responsibilities of home ownership. No leaves to rake, no grass to cut, no snow to shovel, no maintenance and best of all, Crestview does ALL the food shopping, cooking and clean up and cleans our apartment once a week--carefree living.We've made many new friends, our children don't have to worry about us and we can still enjoy the closeness of the community where we lived. We are close to our church, our doctors, our favorite shops, etc.The staff and residents are very caring, friendly and helpful. Easy living!!Carolyn & Glen Cotta

Glen Cotta
16:50 22 Jul 18
I have a resident currently residing at Crestview Senior Living. She has been living there for a little over a year. She is very happy there. She loves the staff, the food, and the activities. I am working with her as a geriatric care manager to get her affairs in order. I am encouraging her to get more involved in activities. She is so pleased with how friendly everyone is. I have been very impressed how eager everyone is to accommodate her and how much they want to make her/keep her happy. There are a lot of long term residents there as well. They are like one big happy family. They all care about one another. My client was so touched that the van drivers reach out to her and make sure she gets to the store. The Directors of Fun (activity directors) make sure to call her to remind her when they are going to the store, when her favorite activities are happening, etc.) I have been a social worker for about 26 years and this is the first time I felt compelled to write a review worth writing! I would love for my parents to come live here!

Susan Signorino
20:33 07 Aug 17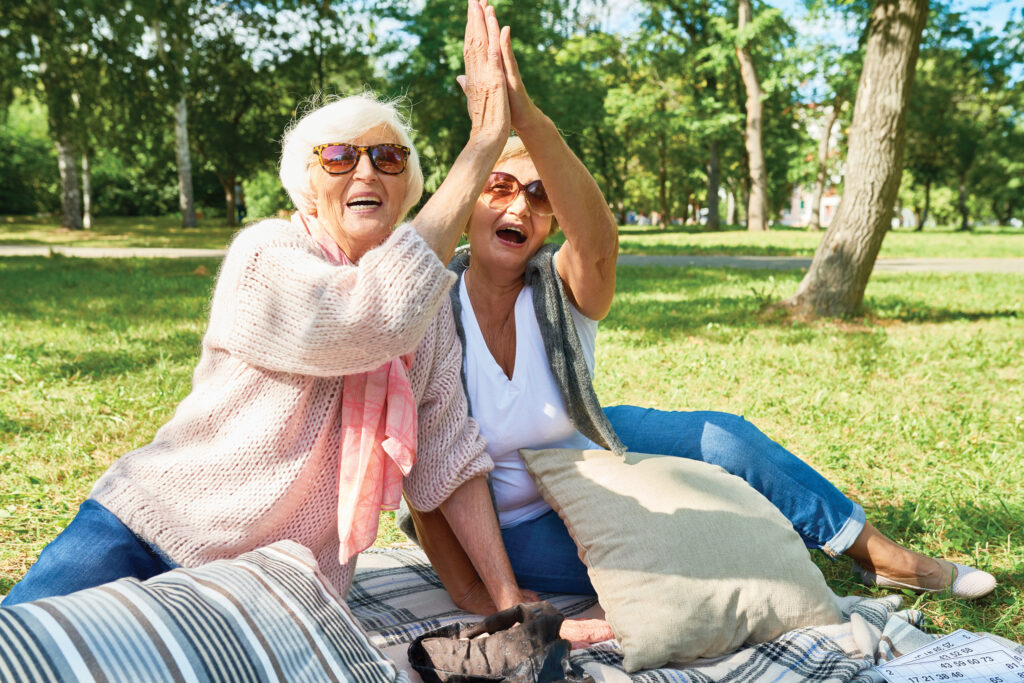 Experience Senior Life in Crestwood
We provide an exceptional restaurant experience, progressive programming that goes beyond expectations, and a wellness program to support all of your goals, thereby maximizing your happiness, independence and total wellness.
Crestwood, MO Senior Floor Plans & Pricing
Transparency, options, and value – it's what we're all about. The spaces and amenities here are designed to help you live your very best life.
Contact Us
Age fearlessly.
Live colorfully.®
It's time to live the good life, engage in our Crestwood, MO senior living community, and embark on new adventures. Schedule a visit to see Crestview Senior Living facilities for yourself and begin your next chapter today. We can't wait to meet you!
Schedule a visit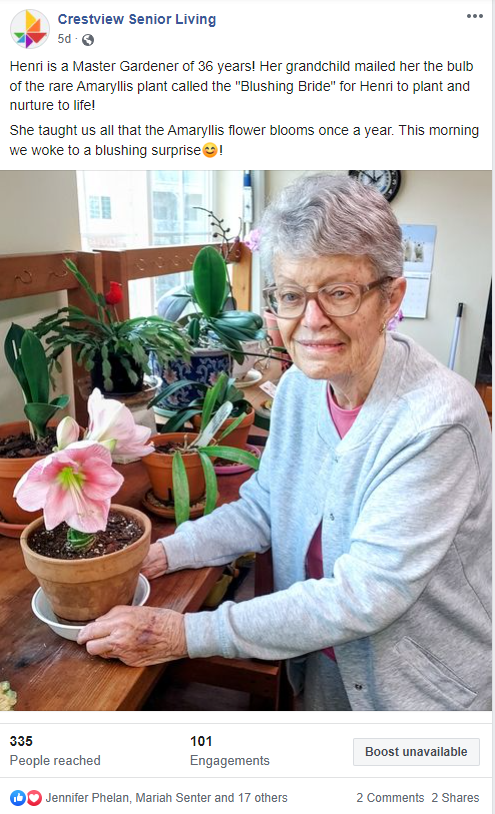 It's time to live the good life, engage in our Crestwood, MO senior living community, and embark on new adventures. Schedule a visit to see Crestview Senior Living facilities for yourself and begin your next chapter today. We can't wait to meet you!
Schedule a visit
Awards & Recognition