Located off Northwest Highway, Northwest of Downtown, Three Oaks Assisted Living & Memory Care is your perfect transition into a convenient and well-tailored life.
Explore our care levels
Assisted Living
in Cary
Customized care coupled with an environment to thrive.
Assisted Living
Memory Care
in Cary
Cognitive support to extend and maximize interests and abilities.
Memory Care
Senior Living Community in Cary, IL
Looking for a place to call home for your retirement years? Three Oaks Assisted Living & Memory Care offers the facilities, activities, and amenities to make your golden years rewarding. Our residents come from Cary and the surrounding communities, such as Trout Valley, Port Barrington, Fox River Grove, Oakland Hills, and more. Live close to your family, friends, and the places you like to go to shop, socialize & worship.
They take great care & love all the residents there. I love that they welcome us to visit. Everyone knows you by name.Love visiting my sweet mom ❤ gives me peace knowing that she is being taken care of.

Andrea Buehler
00:05 18 Nov 21
My mother has been a resident of Three Oaks for several months. Care has been cheerfully and professionally provided, she likes the food , and the activities offered are always varied (the entertainment manager is always in touch with residents to see what could be added for their benefit).When we were helping my mother find an assisted living home, the care and attention to needs of residents was first on the list of priorities, but a beautiful environment was next. At Three Oaks, we found both.We also appreciate the transparency that has been offered from the beginning, regarding care and how the organization is run. This has built trust, and that is priceless.It is a wonderful feeling to know your loved one is being cared for with skill, professionalism, and with caring.

Susan Schilder
16:22 23 Sep 21
Cindy and staff were absolutely wonderful throughout the entire process. They were very informative, helpful, understanding and always responded back to us promptly. Amazing people.

Christine Pizza
13:34 30 Jan 21
This place was truly a blessing for our family! After years of looking for a good place for my mom, we found Three Oaks and I cant thank them enough for the care, compassion and hard work for our love ones!

Alicia Macias
17:23 11 Jun 20
I can't say enough about the staff at 3 Oaks. It truly is a blessing to know mom is not only safe, but truly cared for. We tried keeping her home, but I am so glad that did not work because, even through her Alzheimer, her life is more rich there, from activities to care, I do appreciate them all. Thank you Amanda for helping us navigate this quagmire of a health care system and helping mom. I would recommend 3 Oaks to anyone finding themselves in the need for a loved one.

Susan Grossenbach
15:41 28 Jan 20
Moving my Dad out of his home of 63 years was very hard. For all of us. but at 90 years old, we all knew that he needed to be somewhere safe and comfortable. We had already heard about Three Oaks from friends of ours that had previously moved in. They really liked it. My first visit there to gather information, I was introduced to Shirley. She has been wonderful with my Dad and also answering all of mine and my siblings questions. I felt very at ease calling her at any time with questions and concerns. I thank Shirley very much for making this life changing time go a little smoother .

Donna Litza
19:35 21 Nov 19
Shirley and the entire team at Three Oaks have been incredibly helpful and accommodating as my in-laws transition from another assisted living facility to Three Oaks. I'm especially grateful for the excellent lines of communication, both phone and email. They don't hide behind their voicemail, and are willing to help out with even the smallest details, and that's meant a lot to us. The facility is kept spotlessly clean, and there's a real sense of community.

Julie Rackow
15:46 19 Jun 19
A place I highly recommend! Three Oaks is a wonderful residence for a loved one. The building is bright and shining clean, with a lovely charm and very pleasant atmosphere. A very warm and welcoming environment, which is so important in a difficult time of transition and change. Whether it is staff or fellow residents, people are supportive and positive, like an extended family.Rooms are very neat, spacious and clean, with nice amenities, good lighting, a large restroom, and ample closet space. There are plenty of activities to do as well, a small but charming library with two computers, books, and magazines, as well as a movie theater, rooms to read in, engage with others, or just relax, such as the bistro.Staff at Three Oaks is to be highly commended; whether it be CNAs, nurses, or people in the offices, the director, or staff in the kitchen, people are upbeat, hardworking, and always going the extra mile to try and address any concerns or questions a resident or family members might have.And yes, the food is truly delicious, not a common compliment when one is reading a review of an assisted living, or a nursing home. Healthy produce, with nice variety.I have nothing but praise for Three Oaks, and am happy to have found a place--after having seen a number nursing homes and assisted living residencies for both parents over the past few years--which quickly feels like a second home. Thank you!

Kristina Rosser
04:56 14 Jun 19
I have been very satisfied with the experience at Three Oaks Assisted Living and Memory Care. My mother has Alzheimer's disease and has lived at 3 Oaks for two years. They are compassionate, kind, and always working to improve. They are always coming up with new ideas to engage residents and improve the quality of life of those who are entrusted to their care. The caregivers and administrators are respectful to residents and family members. I wholeheartedly recommend 3 Oaks Assisted Living and Memory Care.

Catherine Henry
23:05 27 Jul 15
My aunt has been in Memory Care at Three Oaks since August of 2013 and it has been the best experience for all of us. She was in 2 other facilities before moving to this place: one where she broke her hip and it wasn't discovered for a few months, one where she did her rehab, and here. We call the staff of caregivers "angels" because they are so loving and respectful, and that can be challenging because my aunt isn't an easy person to care for personality wise. Three Oaks AL is a blessing all around. Even my husband, who gets creeped out by nursing homes, said this place was great. He said the way it is decorated resembles an upscale hotel: clean, bright and elegant. He was very pleasantly surprised. It definitely is NOT a nursing home. I can't say enough good things about Three Oaks and it's staff.Unfortunately, this past spring we opted to move my aunt because the cost to live their increased way more than we expected. We were promised one thing upon move-in, but in the end did not receive what inspired us to to choose Three Oaks in the first place.

Cindi Jahnke
11:11 11 Jul 14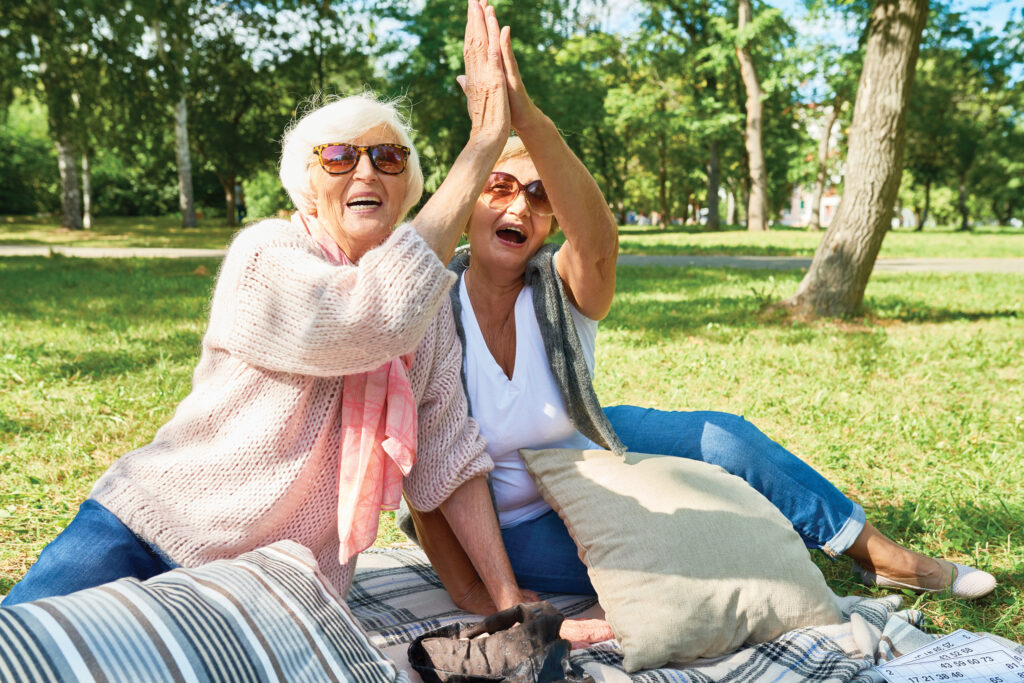 Experience Life Here
We provide an exceptional restaurant experience, progressive programming that goes beyond expectations, and a wellness program to support all of your goals, thereby maximizing your happiness, independence, and total wellness at Three Oaks Assisted Living & Memory Care.
Senior Floor Plans & Pricing in Cary
Transparency, options, and value – it's what we're all about. The spaces and amenities here at Three Oaks are designed to help you live your very best life.
Contact Us
Age fearlessly.
Live colorfully.®
It's time to live the good life, engage in your community, and embark on new adventures. Schedule a visit to see the Three Oaks Assisted Living & Memory Care community and begin your next chapter today. We can't wait to meet you!
Schedule a visit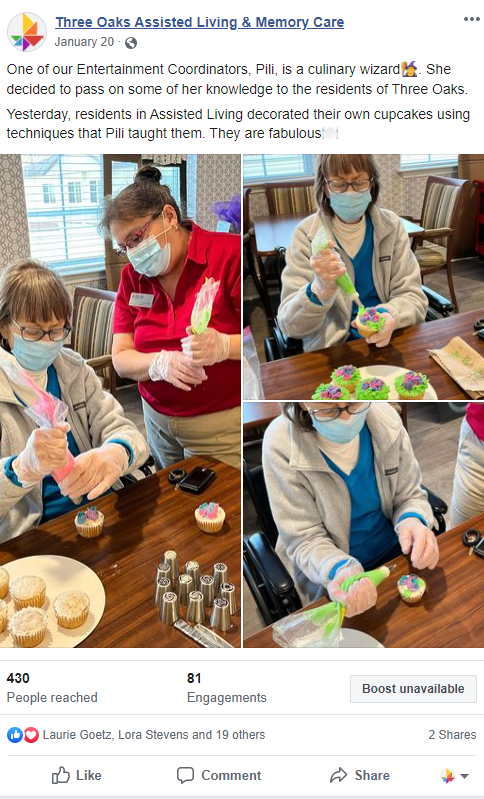 It's time to live the good life, engage in your community, and embark on new adventures. Schedule a visit to see the Three Oaks Assisted Living & Memory Care community and begin your next chapter today. We can't wait to meet you!
Schedule a visit
Awards & Recognition