Located off highway 435, south of Kansas City, Park Meadows Senior Living is your perfect transition into a convenient and well-tailored life.
Explore our care levels
Independent
Living in Overland Park
A worry-free retirement lifestyle that fits.
Independent Living
Assisted
Living in Overland Park
Customized care coupled with an environment to thrive.
Assisted Living
Memory  Care
in Overland Park
Cognitive support to extend and maximize interests and abilities.
Memory Care
Senior Living in Overland Park, KS
If you are tired of washing windows, cutting the grass, and doing daily chores around the house, have you considered a senior living community? Park Meadows Senior Living provides an exceptional senior living experience for residents in Overland Park and surrounding communities such as Lenexa, Grandview, Belton, Stilwell, Olathe, Gardner & more.
At Park Meadows, we offer independent living, assisted living & memory care. If you or a loved one are considering senior living, schedule a tour of our Overland Park senior living community today.
What a beautiful place to live! I'm so grateful to have found Park Meadows!Put this on your "Must See" list!

Anita DuBois
15:52 30 Jun 23
My wife is in Memory care, and I am very pleased with the care she receives.The staff are all good at what they do and very personable. I am there everyday, so get a good sense of what goes on.

Paul Blayney
18:03 22 Dec 22
Mom has been a resident at Park Meadows for several years and we have been happy with her living situation and are pleased with the changes and updates currently being made. We are also encouraged by the dining menu and return to before Covid dining experience.The staff has always been friendly, helpful and kind.

Linda Kautzi
20:23 18 Feb 22
Nice light and clean facility. Closets are quite large. Two bedroom units are quite livable for us. grounds were attractive.

Jerry Mustapha
01:36 27 Aug 21
John Xzenus at Park Meadow was so patient ,and if it wasnt for his knowledge and the true caring for our parents and our family .Now it's been about 6 months at Park Meadows and thank goodness because about a month after she got there the love of her life of 48 years passed away during covid, now she's in a safe clean great environment. The staff at the desk and the nurses. Now I do want to say when you first put your parent or parents at assisted living facility it's a huge change for them even it's absolutely necessary its a change for them and us . It is also a huge weight lifted off everyone's shoulders that instead of alone in a house with all the responsibilities living in the house has. Now at Park Meadows three meals a day , everything is taken care of they can do their laundry they can have their laundry done.

Ginny Dobbs
04:08 25 May 21
I have lived at Park Meadows for seven years. Over the years there have been many changes. We have always been kept aware of the changes and the deadlines.During the Coronavirus Pandemic everything changed. Park Meadows did an excellent job of providing activities, entertainment and delivered meals during this time with strict guidelines. This enabled the residents to relax and it was less stressful.I enjoy living at Park Meadows and look forward to a New and better Year,

Eleanor Ball
19:59 29 Dec 20
Wow, we love Kathy and Daphne at Park Meadows. They made the whole process so much easier during such a difficult time. We cannot believe how hands on and caring they are, not only towards the family, but how much they care for my mom! The facility is light and bright and has a large outdoor area and plenty of room to walk around when not involved in any of the scheduled activities. We love that most every activity can be done by someone with vision issues too. Daphne answered every question and sent us videos of the rooms and entire facility. We feel like we have found mom's forever home and are so blessed! We can't wait for this pandemic to be over so we can visit mom in person.

Debbie Poore
23:12 28 Dec 20
Park Meadows is getting five (5) stars from me on having just looked at the property, and getting a tour of the independent living cottages. I rely on what reviews people give people, places, and companies, so should it need to be updated once mom and dad move in at the end of the month, I will. The welcoming feeling was appreciated. So far it seems that the mantra of their business is to have seniors move in and stay active as long as they are physically able. They do have independent living and assisted living apartments in the main complex; as well as, a separate memory care facility. The independent living cottages offer small details that mean a lot to those of our greatest generation, i.e. coat closet, linen closet, washer/dryer in cottage, front porch, back patio to name a few. I can't wait to move mom and dad into their cottage in just a few weeks!

Mary Winston
16:59 09 Sep 20
My grandmother spent 2 years at Park Meadows prior to her passing. She was very happy there. It is a very beautiful, well kept atmosphere. The housekeeping staff always kept her apartment clean and were very kind to her. She always had very good things to say about everyone that worked there. Before she got sick, she loved all of the activities that Park Meadows offered. I would recommend Park Meadows to anyone.

Sara Connors
18:44 08 Jan 18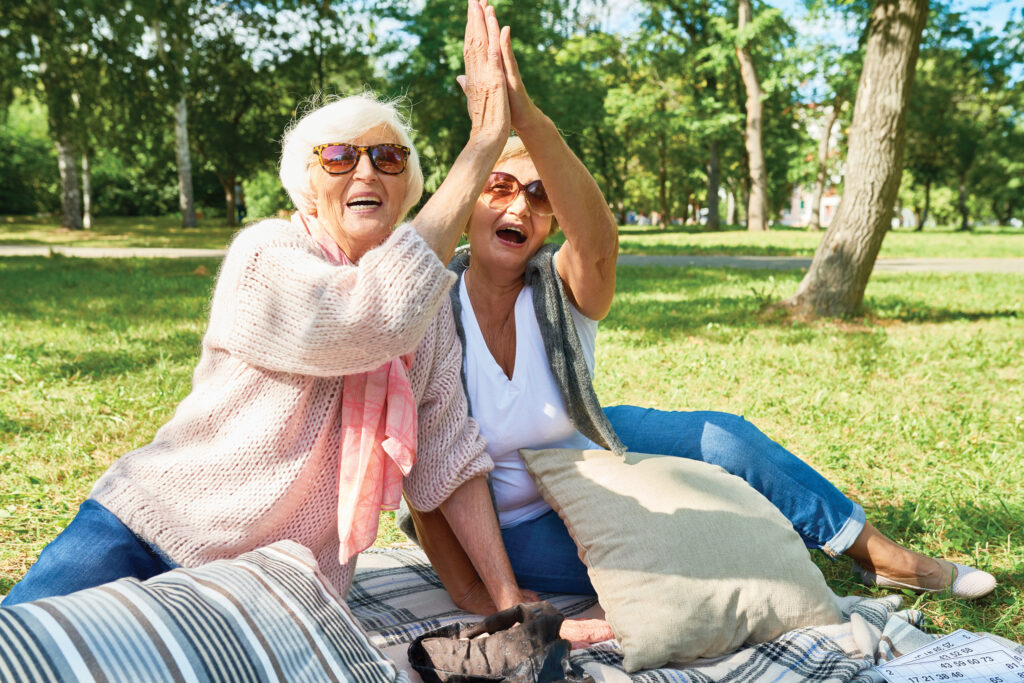 Senior Floor Plans & Pricing in Overland Park
Transparency, options, and value – it's what we're all about. The spaces and amenities at Park Meadows Senior Living are designed to help you live your very best life.
Contact Us
Age fearlessly.
Live colorfully.®
It's time to live the good life, engage in your community, and embark on new adventures. Schedule a visit to see our Overland Park senior community for yourself and begin your next chapter today. We can't wait to meet you!
Schedule a visit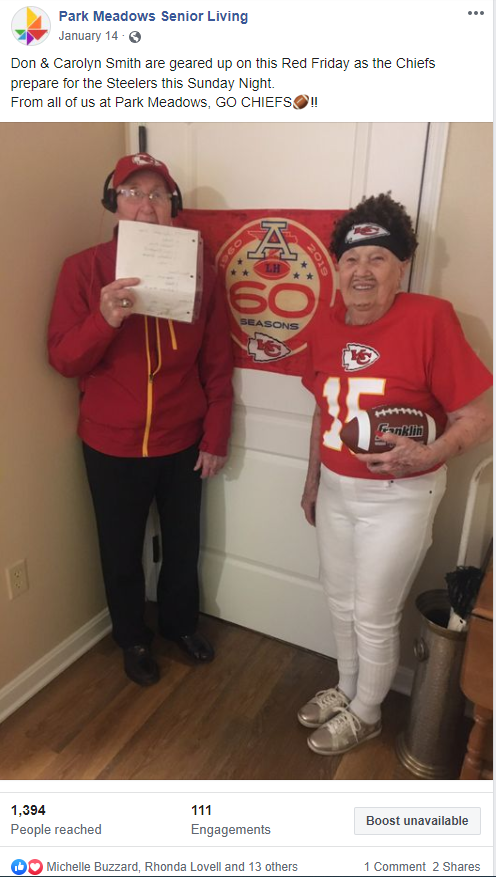 It's time to live the good life, engage in your community, and embark on new adventures. Schedule a visit to see our Overland Park senior community for yourself and begin your next chapter today. We can't wait to meet you!
Schedule a visit
Awards & Recognition