Located right off highway 75, West Chester Assisted Living & Memory Care is your perfect transition into a convenient and well-tailored life.
Explore our care levels
Assisted
Living
Customized care coupled with an environment to thrive.
Assisted Living
Memory
Care
Cognitive support to extend and maximize interests and abilities.
Memory Care
Very Impressive! Excellent Standard of Living! Don't let the small parking lot detour you from entering the facility. It is an extremely nice place for anyone to live. Don't hesitate to take your loved one to visit the facility. Large apartments with a lot of light from the large windows. The countertops in the kitchen are granite, washer/dryer and a full size refrigerator. I think you would be hard pressed to find a nicer facility for someone you love. This is a beautiful place and West Chester is lucky to have it for our elderly. Ask Chad to take you for a tour. Becky C.

Becky Cortner
22:26 05 Nov 20
I can't say enough about the staff at West Chester Assisted Living and Memory Care. From the time my Mom moved in the staff made her feel right at home. The care and compassion they showed her was instrumental in helping her make the difficult transition of moving from a home that she lived in for more than 42 years. My Mom often raves to me about how friendly everyone is and how she loves the food. It gives me comfort knowing that she's in good hands and I selected the right place for her to live.A special thanks goes out to Chad Wilson, Sales Director at West Chester Assisted Living, for all his support trying to get my Mom moved in during COVID-19 restrictions. He not only kept me informed, he also helped my Mom setup her room once she was able to move in since the facility was on lockdown and relatives/friends were not allowed in.In regard to working with the facility and my Mom's Long Term Care (LTC) Insurance, it was a little frustrating at first. Getting timely invoices was impacting reimbursement from LTC. However, Angela Robinson, Executive Director and Christina Oney, Business Office Manager, were quick to resolve the delays. Invoices are now received prior to the end of each month.As for the nursing staff, I can't say enough about how caring and friendly they are to my Mom. My Mom is very comfortable with all of them. Angela Berlsford, Director of Nursing, has done a great job of keeping me informed of my Mom's health. She contacts me periodically to provide an update on my Mom's condition or if they are going to contact her doctor for one reason or another.The pandemic has made it difficult for everyone, especially older individuals who are living in facilities where they cannot see loved ones. My Mom is a little depress because of this. We are all hoping that restrictions are lifted soon so we can visit our loved ones.

Jeff Sainer
22:50 28 Sep 20
I recently toured this building with my mother, as she is getting ready to make her move to an Assisted Living facility, and we were really happy with what we saw and experienced.The building is clean and the staff were really nice and helpful, every question we had we felt we got an answer. I feel that we met everyone as we toured, from the Executive Director to the Maintenance Director and even the housekeeper that would clean my mothers room, everyone seemed to be out in the halls doing something and were so nice and welcoming to us. It was a very warm atmosphere.We have toured several buildings in the past few months and West Chester Assisted Living has been, by far, the best and most memorable experience we have had. We were even given a free lunch so my mom could sample the service and it was the best food we have had during these tours. The kitchen was staff were welcoming and warm also. They made sure my mom's food was prepared as she liked it and that she had everything she needed. There were multiple options for her to choose from and even chicken tenders for my son!Overall we were very pleased and I'm certain, that when she is ready, my mom and I will definitely choose West Chester Assisted Living!

Amanda Seeley
20:15 04 Feb 20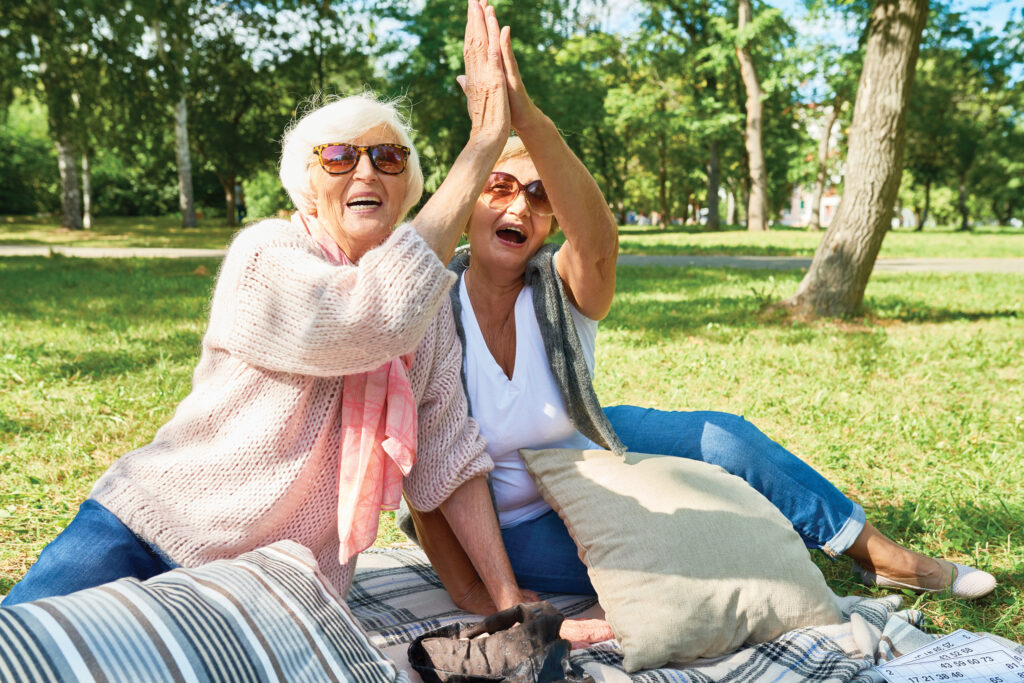 Experience Life Here
We provide an exceptional restaurant experience, progressive programming that goes beyond expectations, and a wellness program to support all of your goals, thereby maximizing your happiness, independence and total wellness.
Floor Plans and Pricing
Transparency, options, and value – it's what we're all about. The spaces and amenities here are designed to help you live your very best life.
Contact Us
Age fearlessly.
Live colorfully.®
It's time to live the good life, engage in your community, and embark on new adventures. Schedule a visit to see the community and begin your next chapter today. We can't wait to meet you!
Schedule a visit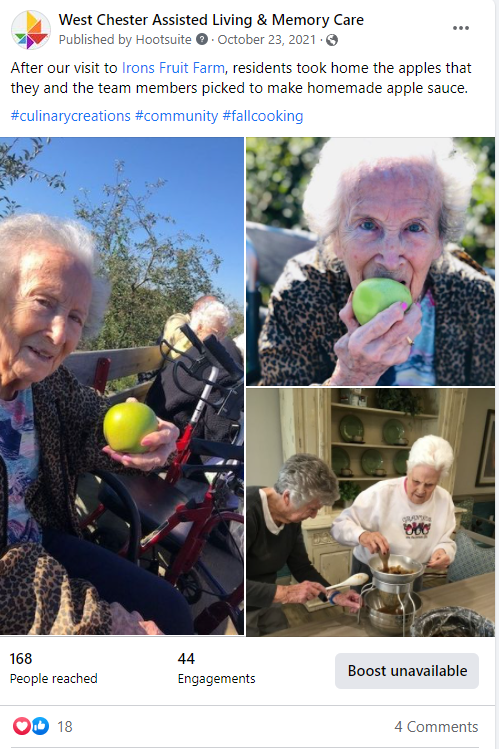 It's time to live the good life, engage in your community, and embark on new adventures. Schedule a visit to see the community and begin your next chapter today. We can't wait to meet you!
Schedule a visit